アートワークフォトサイト Artwork photography site  フォト オフィス サーミエント photo office SARMIENTO
フォトグラファー Photographer : 堀江基繁 Motoshige Horie  https://sarmiento.tokyo/ フォトオフィスサーミエント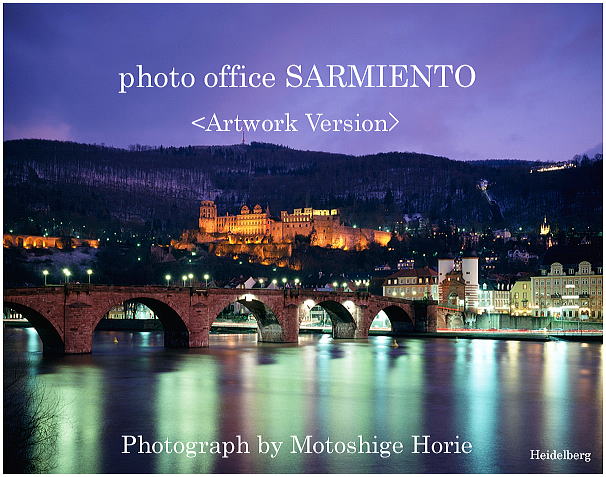 PHOTO GALLERY PAGE






The photography person owns the copyright of all photographs.
Please withhold use without notice regardless of business, an individual, etc.

全ての写真の著作権は撮影者が所有しております。
商用・個人等を問わず無断での使用はご遠慮ください。

Copyright(C) 2001-2021 Motoshige Horie. All Rights Reserved.











∽∽∽∽∽∽∽∽ Please look at other sites of mine. ∽∽∽∽∽∽∽∽

(私の他のサイトもご覧頂けたら幸いです)




https://tsukumogami.site/

The life work site was opened in May 2018.

2018年5月ににライフワークサイトがオープンしました。













https://sarmiento.jp/

The official site opened in December, 2006.
It is waiting also for the visit here.

2006年12月にオフィシャルサイトがオープンしました。
こちらへのご訪問も心よりお待ちしております。












https://sites.google.com/site/photoofficesarmiento/

The comprehensive guidance page of all sites opened in February, 2008.

2008年2月に全サイトの総合案内ページがオープンしました。













https://sunproject.jp/

The site of a stock photograph opened in October, 2009.

2009年10月にストックフォトのサイトがオープンしました。













https://stockphotoimage.blogspot.jp/

The blog site of a stock photograph opened in May, 2010

2010年5月にストックフォトのブログを始めました。













https://s1pro.blogspot.jp/

The blog site of a essay&photograph opened in July, 2011

2011年7月にフォト&エッセイのブログを始めました。














https://sites.google.com/site/cloudanimalzoo/

The blog site of a cloud animal photograph opened in July, 2011

2011年7月に動物雲のホームページを始めました。













https://sites.google.com/site/silverhalidephotography/

It comes also to the site of silver halide photograph.

銀塩アナログ写真のサイトもご覧下さい。












https://hottarakasi.blogspot.jp/

Please also look at blog of horticulture.

園芸ブログもご覧下さい。













https://olddigitalcameras.blogspot.jp/

It is blog of an old digital camera.

古いデジカメのブログです。













https://silverhalidephotography.blogspot.jp/

It is blog of the charm of an analog photograph.

アナログ写真の魅力のブログです。













https://sarmiento-backyard.blogspot.jp/

It is English blog.

海外向けのブログです。













https://mudadayo.blogspot.jp/

It is Experience story blog.

作文家ブログです。














https://necoyamerarenai.vsw.jp/

Cat story site

野良猫写真サイトです。

∽∽∽∽∽∽∽∽∽∽∽∽∽∽∽∽∽∽∽∽∽∽∽∽∽∽∽∽∽∽∽∽


Last Update Jan.05.2021  Since Feb.2004

お問い合わせは下記にメールにてお願い致します。
I ask inquiry comment of you by mail below.

E-mail

∽∽∽∽∽∽∽∽∽∽∽∽∽∽∽∽∽∽∽∽∽∽∽∽∽∽∽∽∽∽∽∽